The Making of An Author
---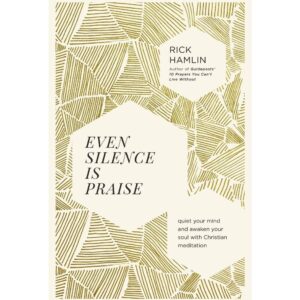 In Even Silence Is Praise, Rick Hamlin offers stories and prompts to help us hear God's still, small voice above all the noise of our minds and our world. As he explores the deeply Christian practice of meditation, Rick helps us discover how:
Even five minutes of quiet a day can change the way we live
Acknowledging the mystery of God draws us to know God more
God uses our imaginations to speak to us
Centering prayer can free us to let go of anxiety and anger
God speaks to us through our bodies as well as our minds and hearts.
Including Meditative Moment ideas at the end of each chapter and a guide to Thirty Days of Prayer, this book reminds us that we change the world as we change ourselves. We bring God's peace into the world as we receive it ourselves. And as we celebrate God's goodness without words, we realize a new joy, contentment, and hope flow from us, as even silence is praise.