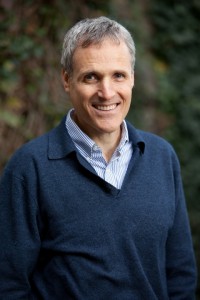 Rick Hamlin recently retired as executive editor of Guideposts magazine, where he has worked for more than thirty years. His spiritual memoir, Finding God on the A Train, was a Book of the Month Club alternate selection and a selection of One Spirit Book Club. Other volumes about prayer include Ten Prayers You Can't Live Without and Pray for Me. He has published three novels, most recently Reading Between the Lines, as well as The Tournament of Roses, a history of the Rose Bowl and Rose Parade.
A native of Pasadena, California, Rick and his wife, the writer Carol Wallace, live in New York City, where they've raised their two boys. Classmates at Princeton University, they sing together in their church choir — he's a tenor and she's a soprano. He finds his best prayer time is first thing in the morning either on the sofa at home or on the train. "I would take the subway to the office, the A train, and read a psalm to get me started, then I closed my eyes and I'd tune out to tune in. The rumble of the train on the tracks is a perfect background to my prayers."
He's been a long time contributor to the best-selling devotional Daily Guideposts and regularly blogs on prayer at Guideposts.org.