How do you pray for someone who is grieving? How do you look for comfort for them when you are grieving yourself?
We mourned the death of a much-loved member of our church this weekend. She was tragically young, with a daughter soon to head off to college and her death was the result of an inexplicable accident only blocks away from the church.
You could feel everyone in the congregation reaching out to each other for comfort on an overcast summer day, asking ourselves why–why?–when there could be no answer to that question.
"I do not believe in a God who causes such tragedies to happen," our minister said right at the start of her homily, "but I believe that God aches with us when we go through such sorrow."
We prayed through that ache. "Comfort us in our sorrows at the death of our sister," a friend read, "Let our faith be our consolation, and eternal life our hope." We held on to that hope, not a false one, but something that the service made real.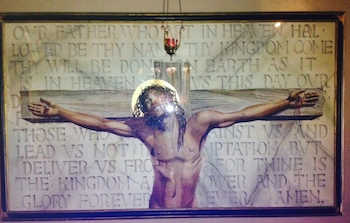 Still, my thoughts went to sorrowful places. I'd be singing a hymn and then find myself choked up with tears, unable to sing a word. I remember singing this music when she was here. Or seeing her daughter and her husband up in front, and remembering how proud she was of her daughter's graduation from high school. That was just a few weeks ago.
"I will raise them up," we sang, reminding ourselves of Jesus' promise. "I am the Resurrection." The love of God was there to comfort us. But how do you access that love when you are still sad?
Towards the end of the service I took Communion and walking back, I stared at the painting on the back wall, given to the church in more recent days, a startling modern image in our Victorian, Tiffany-decorated sanctuary. Jesus on the cross, looking like someone you'd see on the streets outside.
In that image I could see the message of the homily–God feeling our pain because of his own first-hand knowledge of pain and suffering, praying with us as we prayed to him.
God in Christ wasn't looking down on us from above. He was right here among us, with us, where we needed him most.