The Man Who Fell From the Sky
Everybody prayed for Mike and for my sister, Diane. People still ask me about Mike. "How's he doing?" "What's he doing?" People who've never met Mike prayed for him. Total strangers.
Or is someone you prayed for ever a total stranger?
Over three years ago Mike fell from the sky. He was on a business trip on a small plane that took off from a California airport and dropped from the sky almost as soon as it was airborne.
Five other guys were on the plane with him, including the pilot. Mike was the only survivor.
For a while there at the hospital it was touch-and-go. Mike is my brother-in-law and family and friends gathered in the hospital waiting room, praying. There were so many of them the hospital staff brought around food.
I was 2000 miles away, in New York. All I could do was pray for him. Pray for his survival, his recovery and pray for strength for Diane and their three girls.
He spent six weeks in a burn unit, burns covering nearly a third of his body. Then rehab. Then home.
He can't work anymore. But here, you can see from this photo, he's amazing. He exercises. Plays golf. Goes on long bike rides. Goes to his men's Bible study at his church. Goes on trips with his family.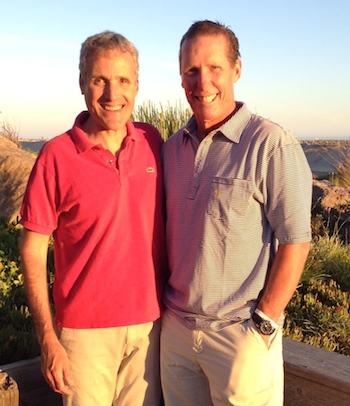 He was around this year to attend his oldest daughter's graduation from college and his youngest daughter's graduation from high school. Milestones he might have missed. Milestones he's been a part of.
He worries about his mind. "It's not what it used to be," he says. Yes, I agree. But the kind of trauma he experienced, dropping from the sky in a plane that then burst into flames, takes a long time to recover from.
"You're better, Mike," I can tell him. Because I only get to see him every few months, when I'm with him in California, I can see progress, progress that is harder for Mike and Diane to see. There is reason for much gratitude, much hope.
He mourns his buddies who were lost in the crash. He's looking for a renewed purpose in life. And he gives thanks everyday.
So thanks, strangers and friends who prayed. None of us are really strangers in prayer.