Where do my missing socks disappear to? Why do I have all these singles that are missing their mates? Are some things beyond prayer?
This truly seems like one of life's existential mysteries. Socks disappear. I don't know where they go. Perhaps if we had a washer and dryer in our apartment, the missing socks wouldn't get out of the house. But everybody loses socks, don't they?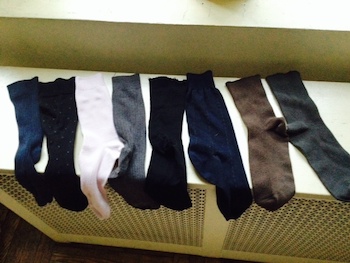 The other day I took all the orphan socks out of my drawer and took a picture of them. Maybe I'd post it in our laundry room with a heartfelt plea: "Help! Lost Socks! All information leading to the discovery of their siblings will be treated with the strictest confidentiality. Please contact…"
My wife suggests I check the washers and dryers more carefully before I remove the laundry. "Sometimes a sock will get lodged on the edge of the door, and you won't even see it," she says. As for her socks…well, she washes them herself, never mixing them with my motley crew.
There is one pair of socks I especially treasure, and I wear them this time of year because they're wooly and warm and make me think of Jesus. That's because they have the Sea of Galilee on the bottom. My colleague Edward Grinnan bought them for me when he went to Israel a couple years ago. "Is it because I walk on water?" I asked.
No answer. But it made me wonder, "What would Jesus think about a prayer for a missing sock?"
The other day I came back from the laundry room with clean laundry, and I matched up all my socks, only to discover one missing. Another one!  Another orphan to add to the drawer. Maybe this was my prayer moment: "Jesus, help me find that sock!"
I searched through the pile of laundry, thinking it might have hidden itself in the crease of a towel or the corner of a fitted sheep. Alas, no sock. No sock anywhere. And it was one of my favorites. What now, Jesus?
I could imagine what my wife would say: Go back to the laundry room and see if the missing pair was stuck in the washer. Maybe this mystery wasn't existential at all but only a situation of human error.
I dashed downstairs to the laundry and hurried over to the washer I had used. One of my neighbors had loaded it up, his dirty clothes now tumbling in the porthole of a window.
"Excuse me, sir," I said. "I think I was the last one who washed my clothes in that washer, and I lost a sock. When you take your clothes out, could you see if there's an extra sock. It's navy blue." We exchanged phone numbers, and that was that.
Less than a half hour had gone by when I got a text message: "I've found your sock. I put it on the bulletin board. "Oh, joy, oh, rapture, my orphan sock would be reunited with its brother!
It made me think of that old expression "putting shoe leather to prayer." Not just praying about something but acting too. Isn't that what I'd done? Not making myself a victim of the mysterious sock-swallowing vacuum in the universe, but stepping forward and seeking help.
"Thank you for rescuing my sock," I said to my neighbor down in the laundry room. I picked the sock off the bulletin board and waved it in the air. "This is really like putting socks on a prayer."
"Huh?" he asked.
"Oh," I said. "It's a little hard to explain."