Say Good Morning to Everybody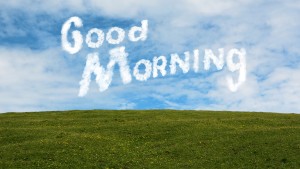 My dad always did this and it brought no end of embarrassment to my adolescent self. He waved good-morning to the neighbor across the street, he said good-morning to the stranger in the elevator at the parking garage, he almost caused car accidents pulling over to say good-morning to the postal worker who wasn't even the guy who delivered our mail but just happened to be unloading letters from the box on the corner.
My dad did it in foreign languages that he couldn't even speak. He said bonjour to waiters in Italy and buenas dias to busboys at the Chinese restaurant and bongiorno to the Danish florist with the thick accent. If he didn't know what language to speak he just said it louder in English, as though someone who didn't speak his language was perhaps hard of hearing: GOOD MORNING! This was often followed up with an equally loud: HOW ARE YOU THIS MORNING?
"But Dad," I wanted to say, "they don't even know who you are."
"They do now," he could say.
For a long time I suffered under the false illusion that the stranger passing us along the street didn't want to be noticed or was in fact thinking such profound deep thoughts that a "Good morning!" coming out of the blue from some unknown person would jog their thought processes and prevent them from coming up with the equation that would win them the Nobel prize.
It was my father's revolutionary notion that the stranger might like to be noticed and that a friendly "Good morning!" could wipe that scowl off his mouth and replace it with a smile. The smile might even have something winsome in it that says, "What a novelty to hear a good morning from someone I don't even know."
The smile was an important part of it. When you're smiling it's very hard to feel unhappy and when you're saying "Good morning" to someone you can't really do it with a straight face. The giver always receives more than the gift he's giving and if you really want to feel good about the day, even if you didn't feel great about it from the beginning, give it away to someone else.
I think my dad gave "Good mornings" away so he could collect them back. The waiter, the busboy, the florist, the postal worker, the barber who waved from his window in the middle of cutting a client's hair, the stranger in the elevator accosted by good humor, the grumpy neighbor across the way, they were forced to say "Good morning" back and with each response Dad won a little victory. He might have made somebody feel a little better. He always made himself feel great.
So guess what? I do it liberally, promiscuously, lavishly in a big city famous for being rude. I say good morning and collect good mornings back. When I run in the park in the morning I wish good morning to everybody I pass. I'm still waiting to get a good morning back from the young couple who run with earphones and music blasting so loud they can't hear their steps on the path. I've become a bit like my dad. I say it very loud: GOOD MORNING.
I say it in elevators, I say it building lobbies, I say it in restaurants, I say it on sidewalks. I still haven't yet been blamed by anybody for stopping them in a profound thought or preventing them from winning the Nobel prize.